Don't miss the Holiday dinner on Sunday, Dec. 10 at Il Fornetto.
Ski Weekend (and snowshoe) January 26-28 Station Touristique Duchesnay.
---
Dec 03 Cap St Jacques Linda H notes: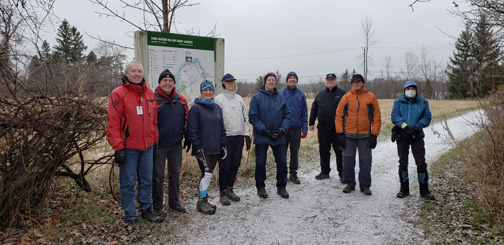 Great weather to check out the trails at Cap St. Jacques. 10 walkers headed out on the rabbit towards the farm. We then set off to the beach. It is amazingly uncrowded this time of year. The trails were a bit muddy but overall, they were in good shape.
We took one of the walking trails back which had us trying out our limbo moves to get under a fallen tree. (Note to self: we are just not as flexible as we used to be!)
We decided 7 and a half-ish km was enough as the weather was just starting to drizzle.
---
Nov 26 Mount Royal
17 showed up to walk the trails of Mount Royal. We went up, around, through 'do not enter' trails and down 370 steps (according to Tom). No one wanted to head back up the stairs to confirm the number!
We were happy to have the trails mostly to ourselves but it was getting busy at noon as we headed back to the parking lot.
We walked 8 km and we got some pretty sunlit views of the city. Have a look at Tom and Linda's pics which, thanks to Keith, are available on Photos.
---
Ile Bizard Nov 19 Notes by Linda H (Check Photos Page)
28 walkers and a dog came out to enjoy the trails at Parc Nature de L'Ile Bizard. A bonus today, the parking meter was hors de service so, for those who did not have a parking pass, the parking was free – hopefully.
The weather was a cool but turned into a snow shower toward the end of the hike. Half did 8.5 ish km and the other half did over 12 km (they added the de l'Eglise loop).
Many thanks to everyone who came out.
---
Oka 12 Nov 2023 Notes by Linda H (Check Photos page.)
8 hikers on the 8 km trail at Oka today. Surprisingly still a lot of leaves on the trees. It was cloudy but some, like Zevan, came prepared for everything. They are doing quite a lot of work to the trails, shoring them up from erosion which left a few muddy spots but once we were climbing it was fine.
We only made one wrong turn near the bottom and, to get back to our cars, we had to reshow our entry tickets. I think it is the first time we ever missed that final little left turn. Guess the conversation at the front was riveting. Not sure what the excuse was for the sheep that followed! A great day was had by all and a quick trip to the OKA cheese shop on the way home made for a great day.
---
Prevost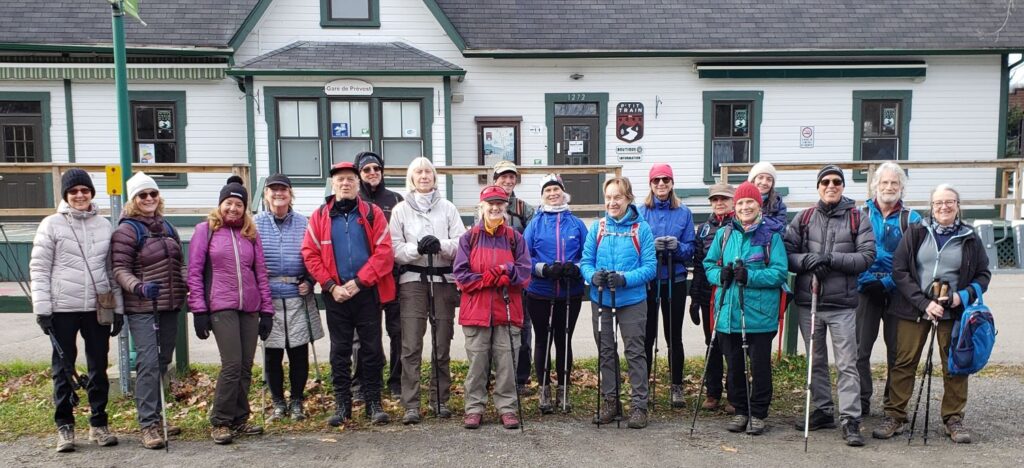 Prevost Hike Report: A challenging hike at Prevost found 19 of us at the start. A few found it to be a bit arduous and cut it short. Don't be discouraged, future outings can be split into 2 or even 3 groups according to how far / fast they want to go. That way we can stay closer together, allowing the keener members to challenge themselves and the others can smell the flowers. I am sure some of us, myself included, can lead the smaller groups.
---
We are well into our walking season, see weekly emails for info. As you all know this is a volunteer run club. If you would like to volunteer to help us out it would be much appreciated. You are all welcome to suggest and lead a hike.
The club main activity is cross country skiing however we have a snow shoe group as well. Snowshoe outings have been averaging 5km and take place at the same locations as the Sunday ski outings.
If you are interested in joining the snowshoeing group please let Karen know, via email: karen.evoy@gmail.com. Please bring along a pair of walking boots and/or crampons in addition to snowshoes in case the snowshoe trails are more suitable for walking than snowshoeing.
The weekly schedule, as always, is posted here in the Calendar, and in the weekly club emails.
The best way to reach us is to send an email to: btnsc2018@gmail.com.
You can also comment on our website Forum page or our Facebook group page. If you've not joined our Facebook Group page yet, please consider doing so here.
Here you will find some useful information about x country skiing.